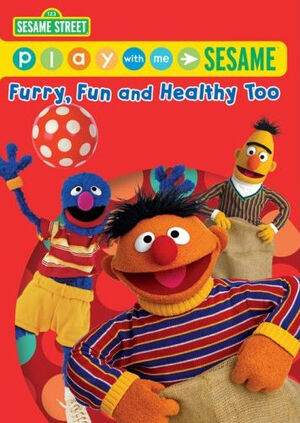 Furry, Fun and Healthy Too is a Play with Me Sesame video released in 2008. It was previously released in region 4. Unlike previous region 1 releases, this one does not contain a bonus CD-rom.

Segments
Image
Segment
Description

Ernie Says
Pretending to swim

Muppets
Grover is a personal trainer and exercise with Bobby and Sissy. However, he gets tired from swinging his arms, running, and jumping up and down that he faints. (Grover's workout video logo edited out)
(First: Episode 3227)

Muppets
"Shake Your Rattle and Roll"
(First: Episode 3352)

Play with Me
The cast say "play with me" while the viewers say "sesame" with their bodies.

Muppets
Ernie & Bert — Ernie turns on the radio to hear his favorite exercise show, Get Moving. He engages the viewer to do all the exercises he does, such as touching toes and jumping. Bert joins in and has so much fun jumping that he doesn't notice that his favorite program, Pigeons in the News, is coming on.
(First: Episode 1025)

Move and Groove
Grover has the cast jump along to the song "Jump." When the song is over, Grover gets tired, but Ernie has Grover play a game of "Ernie Says," and Ernie says "jump."

Muppets
Big Bird talks about brushing teeth, but since he has none, he uses a horse's teeth instead.
(First: Episode 3407)

Muppets
"If Elmo Had Teeth"
(First: Episode 3582)

Play with Me
The cast say "play with me" while the viewers say "sesame" then clap to it.

Muppets
When Frazzle is scared of going to the dentist, his mother tries to comfort him by telling him what a good time he will have. In the end, the dentist turns out to be scared of Frazzle.
(First: Episode 3519)

Ernie Says
All about food.

Muppets
Mr. Johnson wants to order a couple of poached eggs on toast, but Grover tells him that they are all out of eggs, so he brings two corn cobs on toast. Grover gives a lecture on where eggs come from by bringing a cornstalk, chicken feed, and a chicken to the table.
(First: Episode 2724)

Computer
Bert draws a oatmeal bowl in his Oatmeal Art game.

Muppets
"Healthy Food"
(First: Episode 2404)

Muppets
Mr. Johnson goes to a baseball game (populated with monsters) to catch a fly ball. Unfortunately Grover is working there, selling hot dogs. Every time a fly ball comes his way, Mr. Johnson is protected (i.e. tackled) by Grover, who doesn't want him to sustain injury. Grover ends up catching a fly ball that bounces off Mr. Johnson's head when he explains what he's trying to do.
(First: Episode 3784)

Ernie Says
Imaginary baseball

Muppets
Mr. Johnson goes to the local gym, where Grover is one of the instructors. He is about to help Mr. Johnson work out, but keeps leaving to get his towel, whistle, barbell, and radio. Once he is fully equipped to work out, Grover is too tired to do anything else.
(First: Episode 3262)

Muppets
Elmo plays a game called "Statue" with the viewer. The object of the game is to dance whenever music plays, and to hold still whenever the music stops.
(First: Episode 3156)

Move and Groove
Grover has the viewer move along to the song "Get On Up and Move Your Body"; following the clip, Ernie wants to play "Ernie Says" one more time, and says to move a hand.
cast
and
International releases
Community content is available under
CC-BY-SA
unless otherwise noted.