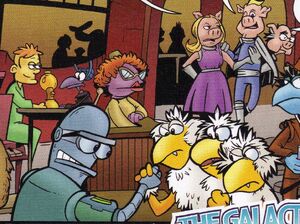 Futurama is an animated science fiction series from The Simpsons creator Matt Groening. The show aired on FOX from 1999 to 2003, and on Comedy Central from 2008 to 2013.
References
Episode Mentions
Pictures
Episode / Description

Into the Wild Green Yonder (February 24, 2009)

---

The Professor has a Tickle-Me "Bender", a spoof on the Tickle Me Elmo craze.

Möbius Dick (August 4, 2011)

---

Leela drives the Planet Express ship directly through "Tickle Me Elmo's Fire".

The Tip of the Zoidberg (August 18, 2011)

---

Zoidberg attempts to cure Fry of several ailments including "Simpsons Jaundice", Garfield Syndrome and Muppet Gangrene: "It's not easy being gangrenous."

Fun on a Bun (August 2, 2012)

---

A holographic history presentation at Germany's Oktoberfest states that primitive man once hunted the woolly mammoth, referred to in German as the "Schüfel-üfagus."

31st Century Fox (August 29, 2012)

---

The opening title caption reads "Today's Episode Brought To You By The Letter [alien letter]."
Comic Mentions
Pictures
Comic / Description

The Fry and the Furious! issue #44 (Jul 2009)

---

Fry is forced to take a test on parallel universe parking with a group of Frys from alternate dimensions. Fry variants include a werewolf, a gender-swap, a robot, and a Muppet.

Fry Cook issue #51 (Sep 2010)

---

Kif reads a book entitled "It's Not Easy Being Green and Under Glass", with a picture of Kermit on the front.

Trouble with Trilogies issue #55 (May 2011)

---

Lord Manumahnuh is based on Mahna Mahna.
Connections
External links
Community content is available under
CC-BY-SA
unless otherwise noted.