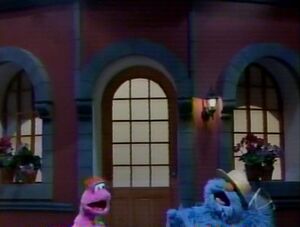 "Fuzzy and Blue (and Orange)" is sung by Grover, Herry Monster and Cookie Monster. Wearing vaudeville-style boater hats and holding canes, they sing about being fuzzy and blue. Eventually, Frazzle interrupts the song because he wants to be in it, despite not being blue, so they change it to "Fuzzy and Blue and Orange."
This song has been sung in the Sesame Street Live show Elmo's Coloring Book, where Cookie Monster sang it by himself. It was also performed by Grover and Rosita in Elmo Makes Music.
A new version of this song was used as the theme song to Grover's workout show, "Fuzzy and Blue, and Healthy, Too!", in the 2005 video release Happy Healthy Monsters.
In the Sesame English episode, "Yes, Baby", Tingo sings brief parts of the song to Niki's baby cousin.
Pancho performed this song in episode 802 of Plaza Sésamo, with an interruption by Lola, who wants to sing too, making him change the song to "Peluda y Azul (y Rosa)." The music in this version was subsequently used as an underscore for various scenes involving Pancho.
The song is one of the rare instances in which Grover uses contractions.
Notes
Releases
Audio
Video
Online
Publications
International releases
Audio -- Sesamstraat -- as "Pluizig En Blauw"(YouTube)
Audio -- Sesamstrasse -- as "Pelzig und Blau"
Video -- Sesamstrasse
Video -- Plaza Sésamo
Sources
See also