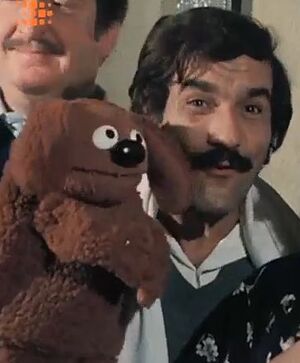 Gérard Hernandez (b. 1933) is a French voice actor who dubbed many characters on Le Muppet Show, including Gonzo, Waldorf, Rowlf, Wayne, Zoot, Marvin Suggs, Dr. Julius Strangepork, and Animal, among others.
He was also heard in the dubs of Muppet Treasure Island (as Bad Polly, Waldorf, and the butler), Muppets from Space, Kermit's Swamp Years and The Muppets' Wizard of Oz (again as Waldorf).
Hernandez has been a frequent supporting player in French cinema and television, appearing in such films as the 1981 Academy Award-nominated Coup de Torchon, The Brain, and Un Crime au Paradis, as well as Sydney Pollock's Bobby Deerfield (with Al Pacino). A prolific voice actor since the 1960s, he has been heard in the French animated features Fantastic Planet, Tintin and the Temple of the Suns, and The Twelve Labors of Asterix, as well as dubbing the Disney features Bambi (as Friend Owl), Alice in Wonderland (The Carpenter), Oliver and Company (Tito), The Little Mermaid (Scuttle), and Atlantis: The Lost Empire (Cookie).
His TV cartoon resume includes Porky Pig, Heckle of Heckle and Jeckle, Skeletor on He-Man and the Masters of the Universe, Papa Smurf on The Smurfs, the Hooded Claw on The Perils of Penelope Pitstop, the Professor on Felix the Cat, Johnny Storm on The Fantastic Four, Mr. Curry and others on Paddington Bear, and the title roles on George of the Jungle, Darkwing Duck, and The Secret Lives of Waldo Kitty.
External links