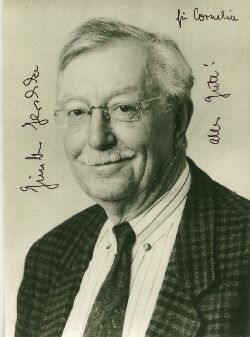 Günther Jerschke (1921-1997) was a German voice actor who dubbed Professor Hastings (renamed Professor Hastig) on Sesamstrasse. In contrast to the American Sesame Street, these dubbed segments remain in rotation on German TV to this day.
Jerschke studied acting as a young man, landing his first movie part in the 1938 Nazi propaganda film Pour le Mérite, in a bit as a young adjutant. Postwar, he found more success performing in revues and as a movie character actor. He featured in several of the Edgar Wallace mystery films, first as the voice of a radio newscaster in Der Frosch mit der Maske (1959, based on The Fellowship of the Frog), and then on-camera (in parts such as lawyers and coroners) in The Dead Eyes of London (1961), The Forger of London (1961), and Secret of the Red Orchid (1962). TV included appearances on Percy Stuart and Tatort.
Jerschke was a busy radio actor, beginning in 1951, with multiple appearances on crime anthologies Das Gericht zieht sich zur Beratung zurück (1952-1955) and Die Jagd nach dem Täter (1957-1964, in roles from landlord to showmen to police inspectors). In the 1960s and 1970s, he was part of the stock company at Studio Hamburg (where Sesamstrasse is both filmed and dubbed), dubbing various series and movies for German TV. Movie dubs ranged from one of Mr. Potter's bankers in It's a Wonderful Life to more substantial roles in an assortment of French and UK films, such as Michel Robin in La Chèvre and Leo Genn in Ten Little Indians.
On Columbo, Jerschke dubbed an assortment of secondary guest stars, including Michael Fox as Columbo's veterinarian, and was a frequent voice on Bonanza, as town doctors, sheriffs, and hotel clerks. Regular TV dub roles were highlighted by Albert Hague on Fame and Harold Gould on The Golden Girls. One of his last roles was in the 1995 children's radio serial The Magic Pudding, playing Albert, the titular pudding.
External links