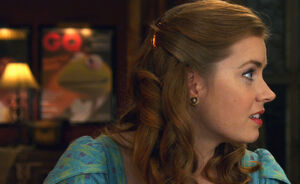 GQ is a magazine published monthly for men's fashion and culture.
References
Appearances
Jason Segel and Kermit were interviewed by Lauren Bans in the November 2011 issue. [1]
Kermit and Piggy featured in a photo essay by Alexi Lubomirski in an early 2013 issue (originally intended for POP). In an interview with The Muppet Mindset[2], Lubomirski explains that the narrative is loosely based on Richard Gere and Lauren Hutton in American Gigolo. One of the photos had previously appeared in the British movie magazine Empire, when it was "guest edited" by the Muppets to promote their 2011 film.
Cookie Monster, or Comegalletas, appeared in a photo shoot for GQ Mexico on August 31, 2018. The article shares tips for maintaining a beard and features Cookie Monster being groomed by his favorite barber. [3] Photos by John E. Barrett.[1]
Mentions
On February 16, 2017, GQ uploaded a video to their YouTube channel with Ice Cube, answering questions on social media. On Reddit he was asked "Wasn't Ice Cube on Sesame Street once?" to which he replied "Hell yeah. I grew up on Sesame Street. And I was Proud to be on Sesame Street. But I'm OG with it." (YouTube)
Sources
↑ Barrett on Facebook "Just saw our Cookie Monster 4 page spread in GQ Mexico. Cookie goes to the barber. Came out great for a multicultural endeavor." December 11, 2018 (restricted access)