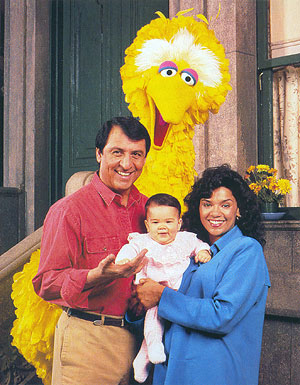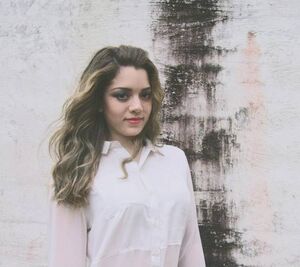 Gabriela Rose Reagan (b. April 6, 1988) is the daughter of actress Sonia Manzano who plays Maria on Sesame Street. She played Luis and Maria's daughter Gabi on the show starting in Season 21 and through season 24. Prior to the role, she had appeared as an imaginary, potential child for the couple in Episode 2608.
In a column for Sesameworkshop.org, Manzano recalled the reason her daughter was recast:
"

In 1988, when Gabi was born, she was slated to play my daughter on the show. It was perfect. As mothers around me struggled with whether or not they should work, or stay home with their babies, I was going to have the opportunity to do both. I was going to be able to work with my baby. (And not only was I going to get paid for it -- she was going to get paid for it too!) It was fine as long as all Gabi had to do was sit on my lap and stare at Big Bird. But, not long after she started walking, she started rebelling. She showed her discomfort in little ways: refusing to be a Birdketeer, refusing to let me run a brush through her hair off camera, then trying to eat her hair on camera. (She actually tried to eat her hair while I was singing a song, which was more than a little distracting.)
Clearly, Gabi felt uncomfortable on television—so my husband and I decided to find out why. "What do you think about being on Sesame Street?" we asked. And, without missing a beat, she said, "not much." (Memory is a funny thing. I swear it's what I remember her saying even though it now sounds wise beyond her years.) "Why?" we squeaked, as nonchalantly as possible. "I hate being told what to do, Mom." (The essence of being on television.) "I hate being told what to say or wear, Mom." (Ditto.) "I hate being the center of attention." (It's what her mother lives for.) "Why do I have to make believe you're my mother, if you really are my mother?" (I know she said that. I couldn't possibly have made that statement up.)

"
In the same column, Manzano asked her daughter to provide her own recollections of the period:
"

I guess that what my mother says is true but, to tell you the truth, I don't really remember a thing about being on the show. IN FACT, I have NO memories about telling my mom I didn't enjoy being on the show either! What I DO remember is when my mother told me to wear a little red riding hood outfit for the camera. I thought that was a stupid idea. The stupidest idea I have ever heard! I don't remember why I thought that, though.... Then, I remember that sometime after the red riding hood incident, I was off the show....

"
Desiree Casado took over the role of Gabi beginning in 1993.
Sources
Community content is available under
CC-BY-SA
unless otherwise noted.