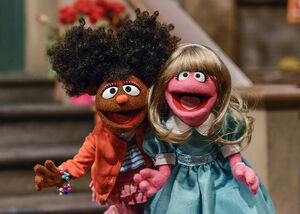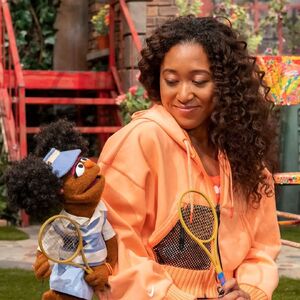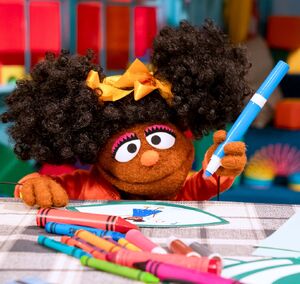 Gabrielle is a six-year-old[1] girl who first appeared on Sesame Street in season 48. She was later given a featured role in the 2020 special The Power of We.
For her first appearance in Episode 4812, Gabrielle (voiced here by an unidentified child actress) and her friend Prairie Dawn make up a dance together. When Prairie suggests they move their hair around as part of it, they discover Gabrielle's hair can't whip around the way Prairie's can. They think they'll have to call off their dance, but learn they can incorporate both moves into the dance. They soon get Elmo and Big Bird to join, moving their fur and feathers too.
Now performed by Megan Piphus,[2] Gabrielle shared three brief comments in Coming Together: Standing Up to Racism. In her next major appearance, The Power of We, her older cousin Tamir is introduced. The two live in the same apartment building with their family and are part of the Power of We Club, which holds virtual meetings, as shown in the special and subsequent online videos.
Gabrielle's press bio more specifically places her age as 6¾ years old and states that she has a gray pet bunny named Harriet.[3] Her birthday has been acknowledged as either November 17th[4] or 18th.[5]
Appearances
Book appearances
See also
Sources