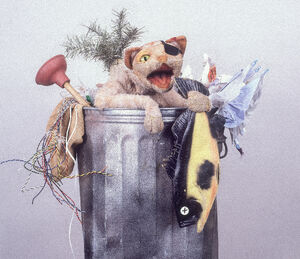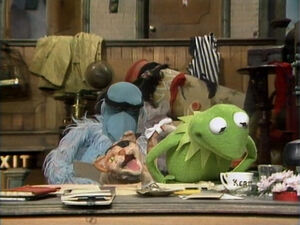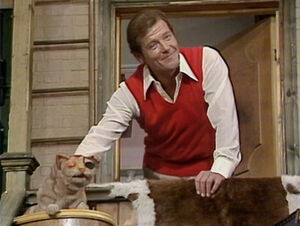 Gaffer is the bedraggled, one-eyed cat who was frequently seen hanging around backstage in the later seasons of The Muppet Show.
The cat was introduced in episode 419, where it served as the focus of disgust for Sam the Eagle. Gaffer was occasionally embroiled in the on-stage antics as well, notably providing a distraction during Foo-Foo's dog act in episode 520 and playing the title role in "The Cat Came Back" sketch from episode 523.
The one good eye Gaffer has, is equipped with a blinking mechanism allowing the puppet to close its eye. Gaffer made a rare appearance, sans eyepatch, in a Muppet Labs sketch in episode 422.
The feline was one of the denizens of the Happiness Hotel in The Great Muppet Caper, appeared in the background in the Playhouse Video The Muppet Revue, and also made a tiny appearance in The Muppets Take Manhattan as a guest during the Manhattan Melodies wedding scene.
In 1985, an illustration of a baby version of Gaffer was included as a vinyl Colorforms piece in the Muppet Babies Colorforms 3-D Play Set. In 2004, the character was sculpted as a pack-in accessory for Palisades Toys' Pops Action Figure.
Performer Kathryn Mullen spoke of the character's creation in a 2013 interview: "Jim wanted a cat, and he said, "Give that to her, let her practice." That was his way of making it easy for me to get really used to the monitor and following things and it was a little training exercise. It was very effective."[1]
Name
Gaffer's name was used in The Art of the Muppets, referred to as "Gaffer the Backstage Cat." However, a number of Muppet Show Fan Club newsletters referred to Gaffer simply as "Theater Cat."
Filmography
Print appearances
Sources