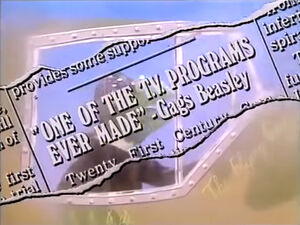 The legendary Gags Beasley is Fozzie Bear's comedy writer.
Of all the writers in the history of show business, Gags Beasley is one of them. In episode 114 of The Muppet Show, it is revealed that he wrote the famous "Banana Sketch," which everyone has heard of except Kermit. In episode 504, Fozzie tells Shirley Bassey that Gags charges 50 cents a laugh and a dollar for a "boffo belly grabber."
Though he has been mentioned several times in Muppet productions and interviews (including on Parkinson and The Merv Griffin Show), Gags has never appeared onscreen in a Muppet production. However, in 1977, Muppet Show writer Jack Burns hosted an episode of Saturday Night Live, in which he appeared in a sketch as a drunk, washed-up comedy writer named Gags Beasley who, not coincidentally, also claims to have written the "Banana Sketch."
Gags' brother Gummo is credited as a writer on The Muppets Go to the Movies; in his own review of the special, Gags says that it's "One of the T.V. programs ever made." According to publicity for The Muppets' Wizard of Oz, Gags is currently assisting Fozzie with the development of his one-man play A Long Day's Journey into Nightclubs.