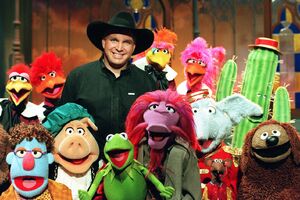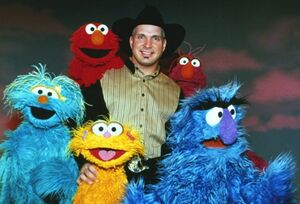 Garth Brooks (b. 1962) was the guest star on Muppets Tonight episode 102. In this episode, he announces that he doesn't want to do the same ol' Garth Brooks material, and wants to branch out -- playing Romeo to Miss Piggy's Juliet, impersonating Tom Jones, and performing as Tevye from Fiddler on the Roof. At the end of the episode, Brooks takes pity on the frazzled Clifford, and performs a rousing Garth Brooks song, "We Shall Be Free".
On Sesame Street, Brooks sang "Different" with two Anything Muppet kids (First: Episode 3187), and "Together We Make Music" with Herry and the monsters (First: Episode 3814). He also appeared in the celebrity version of "Sing."
He is currently married to Trisha Yearwood, another country singer, who appeared in a Sesame Street segment, "I'm Talkin' Love."
References
Brooks, and one of his most popular songs, were spoofed as "Friends with No Faces" by Dr. Bunsen "Garth" Honeydew in a Muppet Trading Card.
In his book Before You Leap, Kermit says his mother booked Brooks into the local theatre, The Bayou Bijou, where she showed him around the low places where his friends hang out.