A Muppet version of Gary appears in the film The Muppets during the song "Man or Muppet."
The singing voice for the character was provided by Bill Barretta and the puppetry was done by Paul McGinnis. His speaking voice, resembling that of Johnny Fiama, can be heard in a blooper reel from the film.[1]
On the Blu-ray commentary, Jason Segel jokes that his Muppet looks like he and Jay Leno had a child.
Outside appearances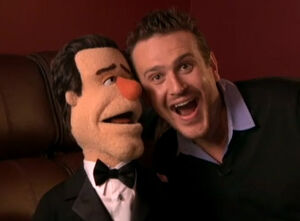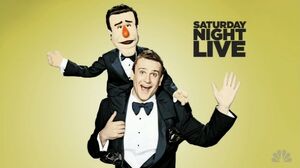 Segel showed the puppet off in his home during an appearance on Nightline, along with the puppets from Forgetting Sarah Marshall.
On November 13, 2011, Segel tweeted about the disappearance of the Muppet: "Landed in NY and someone took my bag by mistake. He is going to be confused when he opens it and finds a Jason Segel Muppet. SNL Saturday!"[2] But one day later the problem was solved, Segel upload a new picture with the Muppet and wrote: "Good news world, the bag and muppet have been returned safe and sound. Now off to Letterman. Always an honor to be on his show. Then SNL SAT."
The puppet appeared in the final commercial bumper for the episode of Saturday Night Live hosted by Segel (promoting the movie), while several Muppets characters were in the studio.
Segel talked about the puppet in detail during his November 28, 2011 appearance on Conan.
In an interview for Segel's film, The Five Year Engagement, Segel admitted he lost the puppet flying to New York when someone had taken his bag my mistake. (YouTube)
See also
Sources