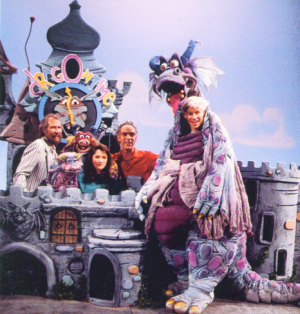 Gary is the main character on the 1987 sitcom pilot Puppetman.
Gary leads the puppeteer cast on the show in the show, Dragon Time. He performs the main character Butane, along with Candle and the full bodied muppet Clyde. He and the other puppeteers are led by the producer, Bud Stone.
Puppetman focuses on Gary taking care of his young son, Zack, who lived with his ex-wife, Beth. Beth goes to New York in the course of the pilot to audition for a traveling show, leaving Zack in the care of Gary. Gary does not know much about caring of Zack, and his busy schedule keeps him from seeing Zack enough, leaving Zack in the Care of Bud Jr., Bud Stone's son. While filming a scene on set, Bud Jr. brings Zack on set, who is complaining of stomach trouble. Gary, in his suit as Clyde, is forced to rush Zack to the hospital. After Zack comes back to the set, Gary uses Candle to know if Zack really wants to stay with him. Zack does, much to the delight of Candle.
Gary not only puppeteers for Dragon Time, but he provides almost every single sound effects for the show, such as horns and cuckoo sounds. At one point, when he learns that his son Zack likes waffles instead of pancakes, he ends up placing the pancake in a waffle iron and providing the sound effects.
According to Bud Stone, Bud enjoys working with Gary as much as he does with his son (but only seconds later, he tells Bud Jr. to shut up).
Community content is available under
CC-BY-SA
unless otherwise noted.