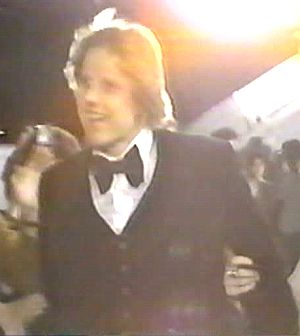 Gary Busey (b. 1944) is an actor who was one of many Hollywood stars making cameos in The Muppets Go Hollywood.
Busey's early roles usually saw him typecast as grinning or sometimes surly country types, truckers, and bikers, as in The Gumball Rally, Thunderbolt & Lightfoot, and various TV Westerns (Bonanza, Gunsmoke). In 1978, Busey garnered an Academy Award nomination for Best Actor for his title turn in The Buddy Holly Story.
He shifted to playing villains, such as the werewolf uncle in Stephen King's Silver Bullet, mercenary Joshua in Lethal Weapon, a stalker in Hider in the House, and renegade Naval officer Krill in Under Siege. He also played "good guy" roles as hard-nosed federal agents in Predator 2 (with Danny Glover) and Point Break. Other credits include Rookie of the Year, Black Sheep, Fear and Loathing in Las Vegas, and 2005's The Gingerdead Man (as the voice of a killer cookie).
External links
Community content is available under
CC-BY-SA
unless otherwise noted.