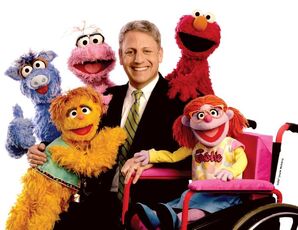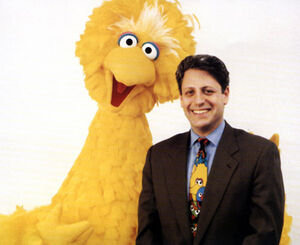 Gary E. Knell was the President and CEO of Sesame Workshop and was with the organization from 1989 to 2011.
Knell left to join NPR on October 10, 2011 and was replaced by H. Melvin Ming. On his departure, Sesame Workshop created a Gary Knell Muppet. In 2013, he became the President and CEO of the National Geographic Society.
Official bio
from npr.org and sesameworkshop.org, during Knell's tenure
Knell served as CEO of Sesame Workshop for 12 years before joining NPR in 2011. During his tenure at Sesame, which he joined in 1989 and assumed the role of COO in 1998 before moving into the CEO role in 2000, the organization expanded its revenue base, audience and global recognition. Knell led the non-profit educational organization in its mission to create innovative, engaging content that maximizes the educational power of all media to help children reach their highest potential. Knell was also instrumental in focusing the organization on Sesame Street's worldwide mission, including the creation of groundbreaking co-productions in South Africa, India, Northern Ireland and Egypt.
As President and CEO of NPR, Gary E. Knell leads NPR's worldwide media operations, which include partnerships with 900 public radio stations. Knell oversees the fiscal, operational, and journalistic integrity of NPR and leads the building of the organization and its philanthropic base to support and leverage the strengths of NPR and its extensive network of stations. As a strong advocate of innovation, he is a key driver in leveraging new technologies to advance NPR's core mission and grow audience for all of public media.
Prior to joining NPR and Sesame Workshop, Knell was managing director of Manager Media International, a print and multimedia publishing company based in Bangkok, Hong Kong, and Singapore. He has also served as senior vice president and general counsel at WNET/Channel 13 in New York, was counsel to the U.S. Senate Judiciary and Governmental Affairs Committees in Washington, D.C. and worked in the California State Legislature and Governor's Office.
Knell is a member of the Council on Foreign Relations. He serves on the boards of Heidrick and Struggles, an executive search firm; National Geographic Education Foundation; and the Jacob Burns Film Center. He is a board member of Common Sense Media and an advisor to the Annenberg School of Communications at USC and the Military Child Education Coalition.
A Gordon Grand Fellow at Yale University, Knell was a guest lecturer at Harvard University, Duke University, Southern Methodist University, Carnegie Mellon University, and the University of Puerto Rico. He received an Honorary Doctorate from Mercy College in New York and has served as the commencement speaker at Johns Hopkins University, UCLA, and the University of Texas at Austin.
Knell received a Bachelor of Arts degree in Political Science from UCLA, where he also served as Editorial Director of the UCLA Daily Bruin and was a stringer for the Associated Press. He received a JD from Loyola University School of Law in Los Angeles.
Appearances
External links
Community content is available under
CC-BY-SA
unless otherwise noted.