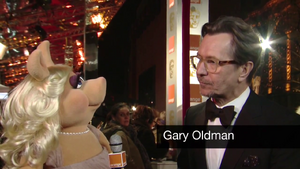 Gary Oldman (b. 1958) is an English film and stage actor, whose notable lead credits include Sid and Nancy, Dracula, and the 2011 version of Tinker Tailor Soldier Spy (netting an Academy Award nomination). He was interviewed by Miss Piggy on the 2012 BAFTA Awards red carpet, where he complimented her as "the most sincere person I've met on this line so far."
In 1998, Oldman played Dr. Smith in the Creature Shop-effects film Lost in Space. He played key supporting roles in two successful film franchises, as James Gordon in Christopher Nolan's Batman trilogy and as Sirius Black in four of the Harry Potter movies. Other notable film credits include JFK (as Lee Harvey Oswald), The Fifth Element, The Book of Eli, The Scarlet Letter, Air Force One, and Murder in the First.
External links
Community content is available under
CC-BY-SA
unless otherwise noted.