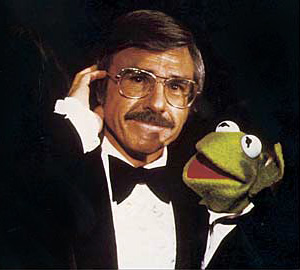 Gary Owens (1936–2015) was an announcer, disc jockey, comic actor, and voice actor best remembered as the ear-cupping booth announcer on Rowan & Martin's Laugh-In, and also the voice of cartoon superheroes ranging from Roger Ramjet to Space Ghost to Powdered Toast Man, among other characters.
In 1969, Owens was cast as The Man from Alphabet in a series of film sketches for Sesame Street. The segments tested poorly and were never aired. However, Owens did supply narration and character voices for multiple animated sketches on the series, including "Today's Secret Drawing" segments and the "J commercial."
Owens served as the voice-over announcer for the 1974 special Out to Lunch; four years later, he was seen and heard announcing The Muppets Go Hollywood. On Dinosaurs, he provided mock-serious narration for "Nuts to War," parts 1 and 2, spoofing William Woodson's narration for The Winds of War, and was heard briefly in other episodes.
Owens also served as announcer for special episodes of The Rosie O'Donnell Show, including a few with the Sesame Street Muppets, and was heard in Muppets from Space as the announcer for the UFO Channel.
External links
Community content is available under
CC-BY-SA
unless otherwise noted.