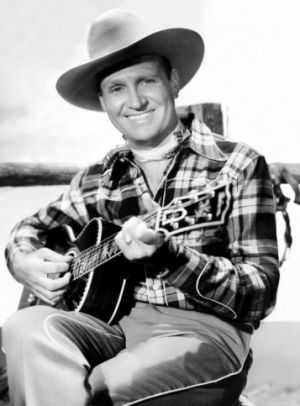 Gene Autry (1907-1998) was a star of Westerns on film, radio, and television and a popular recording artist and songwriter. For several years, he was the best known singing cowboy of the screen (later vying with Roy Rogers for the honor).
Autry began singing on records and radio (including The National Barn Dance). He was signed by Mascot Pictures (later becoming Republic Pictures) in 1934, with a supporting musical role in In Old Santa Fe. A starring role in the 1935 science fiction serial The Phantom Empire followed, plus over sixty-five serials and second features. With few exceptions, Autry played himself, genial cowboy and singing star who often stopped to broadcast a song over the radio from his ranch. Autry's actual radio show, Gene Autry's Melody Ranch, ran from 1940 until 1956 (interrupted during World War II for nearly two years, while Autry was in the service), followed by television's The Gene Autry Show (1950-1956).
As a singer, Autry helped popularize "Rudolph the Red-Nosed Reindeer." He also co-wrote "Here Comes Santa Claus" and "Back in the Saddle Again" (which became his theme song for decades).
References
While singing a medley during the finale of The Muppet Show episode 322, Roy Rogers calls out a series of yodels between songs. Dale Evans interrupts him to say, "Who do you think you are, Gene Autry?"
Community content is available under
CC-BY-SA
unless otherwise noted.