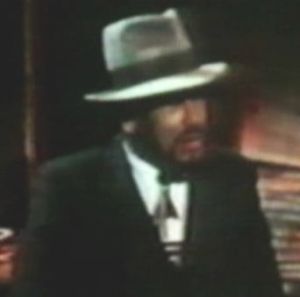 Gene Moss (1926-2002) was a voice actor and comedy writer who frequently contributed to animated inserts on Sesame Street. For the first season especially, this was often in capacity as creative director for Ken Snyder Enterprises and often working with old colleagues Jim Thurman and Bob Arbogast. He appeared on-camera with them, as well as Gary Owens in "The Man from Alphabet" segment, which were only seen as part of the five test pilots. Moss played Digby Dropout, the primary villain.
Moss' voice was heard in several inserts, including as the guru in four segments dealing with opposites. He was sped-up for Karen, the kangaroo (First: Episode 0142). He wrote scripts for inserts and lyrics for the animated song "Happy / Sad."
Moss began his career in New York radio (as advertising director for Mutual station WOR) and as an advertising copywriter, and also doing promotion for CBS-TV Films. He and Jim Thurman were the sole writers on Ken Snyder's animated series Roger Ramjet, with the title character voiced by Gary Owens. Moss voiced gangster Noodles Romanoff, Eagle Squadron member Doodle, and minor characters. Moss and Thurman would re-team for the 1967 Los Angeles children's show Shrimpenstein, with Moss as mad scientist/host Dr. Von Schtick (and Thurman voicing the title character, a ventriloquist-style dummy).
Moss also wrote for Lancelot Link: Secret Chimp (featuring trained simians with dubbed voices) and Fred Calvert's animated series I Am the Greatest!: The Adventures of Muhammad Ali (again supplying minor voices). He was also heard in the occasional comedy album, such as the 1964 parody Dracula's Greatest Hits (co-writing and supplying all voices, while Jack Davis did cover art), or 1968's The Funny Side of Bonnie and Clyde (as the marshal, with Owens, Thurman, David Ketchum, and Joan Gerber). He worked extensively in commercial voice-overs, as well as copy writing, including a stint as Smokey Bear. Moss reunited with Thurman again for Square One TV, writing "Dirk Niblick" segments and guest starring in the "Mathnet" episode "The Case of the Map with the Gap" as old Western hermit Scruffy Rommel.
External links