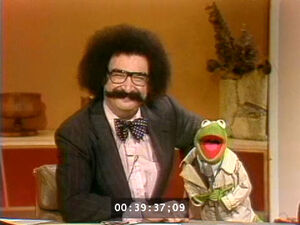 Gene Shalit (b. 1926) is a well-known movie critic known for his use of puns, his handlebar mustache, and his colorful bowties. Aside from his nearly 40-year stint as critic on NBC's The Today Show, he has written for TV Guide, The New York Times and Cosmopolitan.
On April 3, 1974,[1] Ernie and Bert appeared on The Today Show where Bert redressed himself to look like Shalit.[2] In 1977, Shalit hosted the PBS special Sesame Street at Night?.[1]
In 1980, as part of his regular appearances on The Today Show, he interviewed Jim Henson about the NBC Pipes in the basement of (what was then) the RCA Building. Shalit jokingly stated that the pipes would be preserved as a museum, the "Jim Henson Memorial Pipes"—in a way, presaging the inclusion, in 2010, of the pipes on the public tour of 30 Rockefeller Plaza.
In 1983, he appeared in the "Great Muppet Look-Alike Contest" in Muppet Magazine issue 1, paired with the Swedish Chef. And he also contributed a "Movie Crumb Cake" recipe for Miss Piggy's 1996 cookbook, In the Kitchen with Miss Piggy.
Shalit has ventured into the medium he critiques as well, appearing as himself, or a parody voiced by him, in SpongeBob SquarePants, The Critic and Family Guy.
References
A Muppet version of Shalit appeared in the 1975 special The Muppet Show: Sex and Violence, followed by a pig-version of the same character.
Sources
↑ 1.0 1.1 "Jim Henson's Red Book", 4/3/1974 – TODAY Show – Bert as Gene Shalit.
↑ Jim Henson's Designs and Doodles, Alison Inches, 2001. The sketch "Bert as Gene Shalit" appears on page 103, with the caption: "Puppet design for an appearance on The Today Show, April 4, 1974."
External links
Community content is available under
CC-BY-SA
unless otherwise noted.