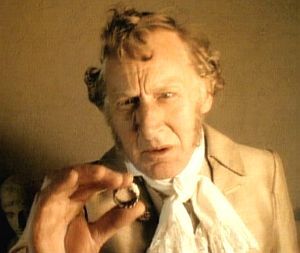 Geoffrey Bayldon (1924–2017) was a British character actor who portrayed Sapsorrow's father in The StoryTeller episode "Sapsorrow."
Bayldon's film credits include A Night to Remember (as the wireless operator aboard the Titanic), the escape film King Rat (as a squadron leader), Hammer's 1958 version of Dracula, To Sir With Love (as cynical teacher Weston), the James Bond spoof Casino Royale (as Q), Scrooge (1970, as a toy shop owner), The Pink Panther Strikes Again (as Dreyfus' latest psychiatrist), and The Monster Club (with Vincent Price, again as a psychiatrist).
On television, he starred as the title character in the comic fantasy Catweazle and guest starred on Doctor Who, The Saint (with Roger Moore), The Avengers, the Jeremy Brett Sherlock Holmes, Tales of the Unexpected, Rumpole of the Bailey, and Heat of the Sun.
External Links
Community content is available under
CC-BY-SA
unless otherwise noted.