"Geometry of Circles" is a series of animation pieces created for Sesame Street. Animator Cathryn Aison commissioned Philip Glass to write the music based on her storyboard, which had been submitted to and approved by Edith Zornow in 1979.
The shorts consist of the movement of six circles (each with a different color of the rainbow) that are formed by and split up into various geometric patterns. Glass's music underscores the animation in a style that closely resembles the "Dance" numbers and the North Star vignettes written during the same time period as his Einstein on the Beach opera.
The film has featured in public screenings and museum exhibits, including the "Century of the Child: Growing by Design" exhibit at New York's Museum of Modern Art in October 2012.
All four segments first aired back-to-back in Episode 1392, and again in Episode 1448. At the suggestion of composer Philip Glass, the full piece was segmented into four parts which could be inserted separately into later episodes.
The series was referenced visually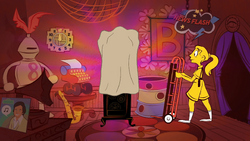 in the opening titles for When You Wish Upon a Pickle, where the "Seven Circles with Designs" image is used as a rug in a store.
Releases
Video
External links