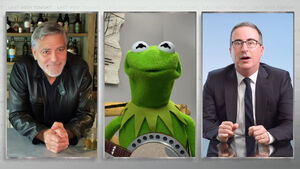 George Clooney (b. 1961) is an actor and director working in showbusiness since the late 1970s.
He first gained fame as Dr. Doug Ross on the NBC medical drama ER in the 90s. His film roles include playing Batman in Batman & Robin (1997), From Dusk till Dawn (written by Quentin Tarantino), the Ocean's Eleven movies (and several others with Steven Soderbergh), multiple collaborations with the Coen brothers including O Brother, Where Art Thou?, Gravity (with Sandra Bullock), and Disney's Tomorrowland. Rosemary Clooney was his aunt.
In 2017, Clooney appeared in a commercial for Nespresso that repurposed footage from The Muppet Movie, inserting Clooney into the backseat of the Studebaker with Kermit and Fozzie. On appearing with the characters, Clooney said: "The Muppets - I learned a lot of things from the Muppets. Good acting lessons to learn from the Muppets. They're always happy. You know, they bop their heads like this."[1]
Clooney later shared a guest appearance with Kermit the Frog on the August 1, 2021 episode of Last Week Tonight with John Oliver, where he claims he has the power to summon Kermit by clapping his hands. John Oliver excitedly urges him to demonstrate, so Clooney claps his hands and makes a chagrined Kermit appear mid-banjo strum.
References
Miss Piggy has often listed Clooney among her celebrity crushes:

November 2011 interview on Jimmy Kimmel Live; says she wants pictures of her and Clooney to appear in the tabloids to make Kermit jealous.[3]
In February 2012, Piggy told the press that she wouldn't wrestle Clooney's wrestler girlfriend Stacy Keibler, but she said "if George wants to wrestle, bring it on! Best two out of three falls? Winner gets a dinner?"[4]
August 2014 interview with Daily Star.[5]
An early script for The Muppets included Clooney among a list of potential cameo guests. Although he didn't appear in the film, his name is included on Veronica's Key Demographic Analysis of Top 100 Things in Popular Culture as cultivated by CDE.
In The Muppets episode "Single All the Way", Piggy consults Uncle Deadly on what to wear to George Clooney's Ugly Christmas Sweater Party, unable to decide if what she's wearing is ugly enough. After Scooter enters her dressing room wearing a light-up sweater his mother made him, she makes him take it off as it's hideous.
On January 22, 2016, Kermit tweeted, "A perk of being an amphibian is not worrying about going grey. Guess I'll miss out on having Clooney's rugged salt-and-pepper good looks." [4]
Sources