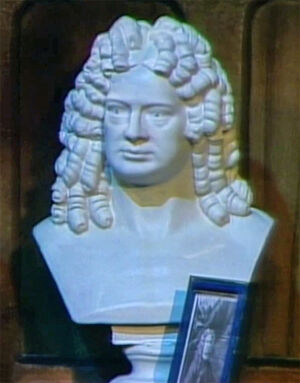 George Frideric Handel (born Georg Friederich Händel, 1685-1759) was a prolific German, later British, Baroque era composer who spent the bulk of his career in London, becoming well known for his operas and anthems.
After receiving training in Halle and working as a composer in Hamburg and Italy before settling in London in 1712, he became a naturalized British subject in 1727. He was an enormous influence on his fellow classical composers Wolfgang Amadeus Mozart and Ludwig van Beethoven.
On The Ghost of Faffner Hall, three composer busts are on display at Faffner Hall, offering advice to Fughetta Faffner. One of them is a representation of George Frideric Handel, the other two of the aforementioned Mozart and Beethoven.
Works
Community content is available under
CC-BY-SA
unless otherwise noted.