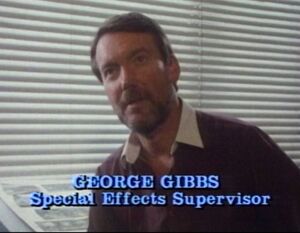 George Gibbs is a special effects artist, working primarily in practical or mechanical effects. He was special effects supervisor on Labyrinth, notably working on Humongous and constructing the shaft for the Helping Hands and the Bog of Eternal Stench. He was briefly interviewed in the documentary Inside the Labyrinth. Gibbs later worked on 101 Dalmatians, independently of the work by Jim Henson's Creature Shop.
Gibbs began his career in England in the 1960s, working on model effects for Gerry Anderson's Thunderbirds series and then in films like The Battle of Britain, Captain Nemo and the Underwater City (his first screen credit), and The Omen. Later films, usually as special effects supervisor, included Flash Gordon, Brazil, Conan the Barbarian, two Pink Panther movies, Superman, and A Fish Called Wanda. Gibbs shared in two Academy Awards for Best Visual Effects, for Indiana Jones and the Temple of Doom and Who Framed Roger Rabbit.
External links
Community content is available under
CC-BY-SA
unless otherwise noted.