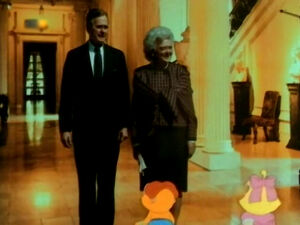 President George H.W. Bush (1924-2018) was the 41st President of the United States of America from 1989 to 1993. In 1990, he appeared with his wife, then First Lady Barbara Bush, to introduce the video release of the animated anti-drug television special Cartoon All-Stars to the Rescue, which featured appearances by Baby Kermit, Baby Piggy, and Baby Gonzo.
Sesame Workshop executive Sherrie Westin served as Assistant to the President for Public Liaison and Intergovernmental Affairs beginning in 1992, one of the highest ranking women in Bush's staff.
References
Community content is available under
CC-BY-SA
unless otherwise noted.