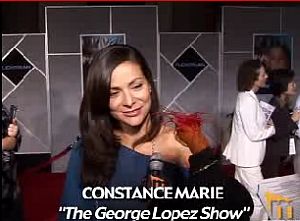 George Lopez is a sitcom starring George Lopez, using his real name as a fictional aircraft parts factory employee and family man.
References
In episode 8 of From the Balcony, co-star Constance Marie appears, with the on-screen text identifying her as from The George Lopez Show. Pepe the King Prawn asks her if her TV husband George Lopez is a good kisser. Once assured he isn't there, she complains about the breath on that man, "you know, halitosis?"
Muppet Mentions
In the season 4 episode "Sk8erboyz," Carmen Lopez comments on her little brother Max's clothes and tells her mother, "You still dress him like he's in elementary school. Dorky shirt, dorky pants. You can't even see his boxers. Why don't you just dress him in a Tickle Me Elmo shirt and send him to his death?"
Connections