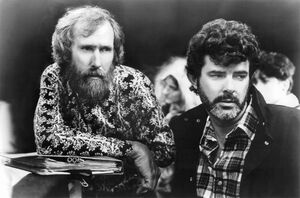 George Lucas (b. 1944) is an acclaimed producer, director, and screenwriter, and founder of Lucasfilm, Ltd. He also served as executive producer for Jim Henson's Labyrinth.
He is perhaps best known for creating the Star Wars saga, which was filmed in the same studios as The Muppet Show. A few of the characters he created for Star Wars would appear as the guest stars of a fourth season episode of The Muppet Show.
Lucas was also the creator, writer and producer of the Indiana Jones film series. His production company, Lucasfilm, spawned the computer animation company Pixar (formerly Lucasfilm's Graphics Group), and Lucasfilm Games produced Labyrinth: The Computer Game in conjunction with Henson Associates.
A George Lucas Muppet appears in episode 31 of From the Balcony, being interviewed by Ted Thomas Sr.
On September 24, 2011, The Jim Henson Company's Facebook account posted this quote from George Lucas:
On October 30, 2012, Lucas sold Lucasfilm to The Walt Disney Company, placing it under the same ownership as The Muppets characters.
Lucas is married to Mellody Hobson.
Trivia
A commonly referenced number by George Lucas is 1138, first used in a short film he made in college which became THX 1138. The number is closely associated with Star Wars.
External links