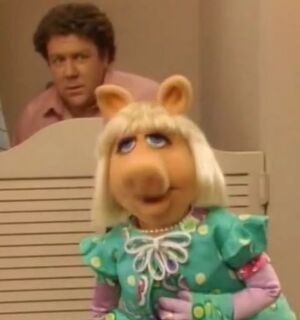 George Wendt (b. 1948) is a TV actor who became popular for his role as barfly Norm Peterson on Cheers. In 1989, he appeared in Miss Piggy's Hollywood, a half-hour special which aired as an episode of The Jim Henson Hour, in which Piggy corners him in the men's dressing room at a Gucci store. Gonzo speaks approvingly of Wendt's boxer shorts.
Wendt appeared alongside other Cheers cast members (in character) in 1990's The Earth Day Special, which also included a separate cameo by the Muppets. In 1999. he played Tweedledee in the Creature Shop-effects film Alice in Wonderland.
Beyond Cheers, Wendt played Chicago sports Superfan Bob Swerski in periodic sketches on Saturday Night Live (and occasionally elsewhere), had his own short-lived sitcom The George Wendt Show (1995), recurred on Sabrina, the Teenage Witch (2001-2002, as Sabrina's boss), and lent his voice to two early Garfield specials. Guest spots include Seinfeld (as himself), M*A*S*H, Tales from the Crypt, and Columbo. Film credits include Fletch, The Little Rascals (1994), and Spice World.
External links