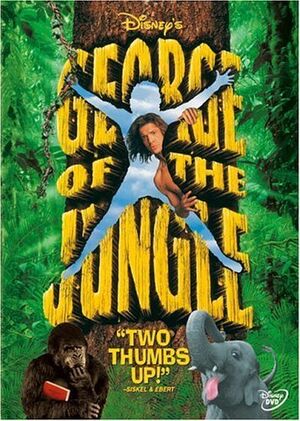 George of the Jungle is a live-action feature film adaptation of the 1967 Jay Ward animated series. The film starred Brendan Fraser in the title role. As with The Flintstones, another cartoon-based movie, the Creature Shop supplied animatronic puppet characters, including a lion, the Tookie Tookie Bird, snakes, and assorted gorillas. The most prominent puppet character was An Ape Named Ape, voiced by John Cleese.
Cast
Puppeteers
Creature Shop credits
Gorilla choreographer: John Alexander
Special creature effects by Jim Henson's Creature Shop
Creative supervisor: David Barrington-Holt
General manager: Matt J. Britton
Project manager: Sally Ray
Lead designer: Peter Brooke
Sculptors: John Brown, Ralph Cordero, Chris Hanson, Steve Koch, Mark Wahlberg
Mold department supervisor: Phil Jackson
Moldmakers: Larry Addison Bortolott, Matt "Chief" Flesher, Matt Singer
Foam tech: Josh Yates
Gorilla costume designer: Camilla Henneman
Lead set gorilla Designer: Carol Jones
Gorilla costumers: Leah Aiken, Susan Cox, Erica Freeman, Marian Keating, Julie Zobel
Fabricators: Rick Cedillo, Lisa Cordero, Susan Spector, Mariana Tiana
Finishers: Duke Cullen, Robin Dufay
Hair techs: Karin Hanson, Jeff Himmel, Kate Studley
Seamers: Karen Carmichael, Brian Dooley, Carl Swanson
Lead mechanic: Mike Scanlan
Mechanics: Peter Abrahamson, John Biggs, Gil Correa, Ken Walker
Machinists: Mark Goldberg, Jake Lee
Electronics department supervisor: Jeff Forbes
On set electronics department supervisor: Mark Ross
Electronics tech: Cheryl Blake
Hair and cosmetics techs: Jack Bricker, Marlene Stoller
Special lens optometrist: Dr. Jonathan Gording
Contact lens tech: David Hogan Bauer
Production coordinator: Jim Edson
Community content is available under
CC-BY-SA
unless otherwise noted.