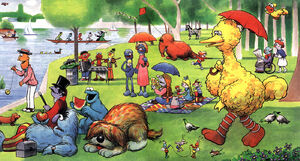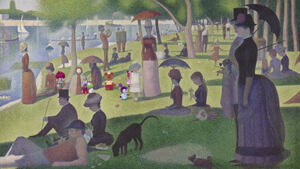 Georges Seurat was a 19th-century French artist most famous for his painting, Sunday Afternoon on the Island of La Grande Jatte. The art piece is often used as an example of the pointillism technique from the Post-Impressionism period, and was the inspiration for Stephen Sondheim's Broadway musical, Sunday in the Park with George (featuring Bernadette Peters, Mandy Patinkin, Charles Kimbrough, and Robert Westenberg).
References
On My Way with Sesame Street Volume 1 featured a version with Sesame Street characters called "Sunday in the Park with Big Bird." Featured in the spoof are Big Bird, Grover, Ernie, Bert, Elmo, The Amazing Mumford, Herry Monster, Cookie Monster, Mr. Snuffleupagus, Oscar the Grouch, Little Bird, Barkley, Twiddlebugs, Grover's Mom, The Count, Prairie Dawn, Betty Lou, Rodeo Rosie and various Anything Muppets.
When the babies help Baby Fozzie hunt for his missing lunchbox in the 2018 Muppet Babies episode "You Ought to Be in Pictures", they find themselves in Seurat's Sunday Afternoon on the Island of La Grande Jatte; the very painting in which the pointillized monkey who stole the lunchbox came from.
Community content is available under
CC-BY-SA
unless otherwise noted.