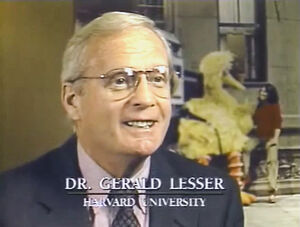 Gerald S. Lesser (Aug. 22, 1926 - Sep. 23, 2010), Harvard professor emeritus of Educational and Developmental Psychology, served as Chairman of the Children's Television Workshop board of advisors from 1969 through 1996.
He played an instrumental role in shaping the Workshop's educational goals for Sesame Street, developing what became known as the CTW Model. In this capacity, he appeared in the Sesame Street Pitch Reel with Kermit the Frog to discuss the procedures of their upcoming children's show.
Lesser penned the 1974 book Children and Television: Lessons from Sesame Street, providing an early production history and analysis of the research and pedagogical approaches as well as criticism. Lesser was writing a history of CTW's international coproductions.
Gerald Lesser died on September 23, 2010 at the age of 84. He is survived by his wife, daughter and son.