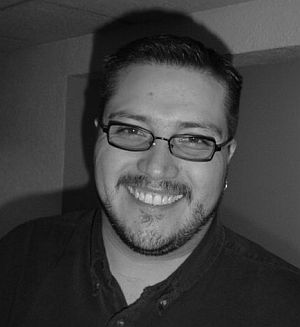 Gerardo Vásquez (b. 1971) is a Mexican voice actor who has dubbed Sweetums since Los Muppets (The Muppets). He also dubbed singing voices in the latter.
Vásquez was the first voice director for the Spanish dub of Pokemon, and also played Meowth, the narrator, and others. On The Simpsons, he dubbed Dr. Hibbert and, since the 2007 cast changes, Principal Skinner, Barney Gumble, Jimbo, and occasionally substituted as others. Other cartoon roles include Trusty in the redub of Lady and the Tramp, Stan Smith on American Dad, Joe Swanson on Family Guy, Megatron on various Transformers series (and in the live-action movies), and He-Man in the 2002 He-Man and the Masters of the Universe.
For live-action dubbing, Vásquez is the primary Spanish voice of Samuel L. Jackson (including the Marvel movies) and, often, Laurence Fishburne. He dubbed Forest Whitaker in multiple movies and on Criminal Minds: Suspect Behavior, Dwayne Johnson in Hercules and Baywatch, Arnold Schwarzenegger in The Last Action Hero, Vernon Wells on Power Rangers: Time Force, and Philip Baker Hall in The Talented Mr. Ripley.
Muppet dub credits