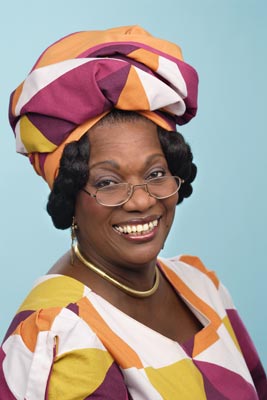 Gerda Havertong (b. 1946) plays Gerda and Peetje on Sesamstraat, the Dutch co-production of Sesame Street.
The Surinamese actress and singer made her debut in 1984 in the 2500th episode of Sesamstraat, Sesamstraat is Jarig, (which was later adapted to a record album). Gerda became a regular character during the next season, replacing Rudi Kuhn in the role of the Surinamese neighbor.
At first she just played the part of the "nice aunt" who would solve everything with a cup of tea. According to a newspaper article, Havertong had difficulties with her role; she felt that her land of birth was the only reason why she was hired.
In 1997, the writers came up with a new role for the actress. Every now and then she plays Peetje, a silly Surinamese lady who loves snacking and pulling pranks on people.
Havertong also performed in Klokhuis, an educational children's show for a slightly older audience.
During the 1990s, Havertong was absent from the show for a few seasons, due to a serious injury after a car accident.
Community content is available under
CC-BY-SA
unless otherwise noted.