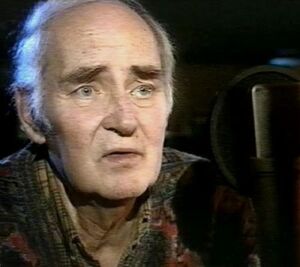 Gert Günther Hoffmann (1929-1997) was a German voice actor who dubbed human guests or characters in a few Muppet projects. He voiced Professor Krassman in the German dub of The Muppet Movie, Johnny Cash on Die Muppet Show (The Muppet Show), and William Shatner in the German dub of Muppets Tonight.
Hoffmann was one of Germany's most familiar and most prolific dubbing voices, from the 1950s until his death. He was the official German voice of Sean Connery in the James Bond movies (all save Dr. No) and others (including Robin Hood: Prince of Thieves) and did similar duty for leading men Paul Newman and Rock Hudson. In German produced films, he dubbed American actors Lex Barker (including the Winnetou films), and George Nader (in the Jerry Cotton series), as well as Italian actor Tony Kendall in the four Kommissar X movies. He also dubbed Robert Flemyng in The Man Who Never Was, Vincent Price in Dr. Goldfoot and the Bikini Machine, Richard Vernon in The Human Factor, Martin Landau in City Hall, and John Gielgud in Shine.
On television, Hoffmann lent his voice to William Shatner as Captain Kirk on Star Trek, doing the same for the Trek movies, T. J. Hooker, and others. He was the German voice of Patrick Macnee as John Steed on The Avengers, The New Avengers, and other projects, as well as Robert Stack on The Untouchables. He worked with Die Muppet Show voice director Eberhard Storeck in dubbing the Pink Panther shorts, with Hoffmann adding rhyming narration to accompany the panther's antics.
On-camera, Hoffman had a supporting role in the Jerry Cotton film The Trap Snaps Shut at Midnight (1966, with Alexander Allerson and Werner Abrolat), before becoming the German voice of Nader as Cotton. Other films included Her Most Beautiful Day (1962, starring Inge Meysel), the somewhat titillating 1961 film Lebensborn (aka Ordered to Love, as a Nazi officer), and Alexander Kluge's Strongman Ferdinand (1976). On television, he was often cast as policemen, first in small roles in the 1960s and then starring as detective Arnold Matofski on Sonderdezernat K1 (1972-1982, with breaks between seasons). He guest starred on other popular crime series: Der Kommissar, Derrick (as a police investigator), Der Alte, and Tatort.
External links