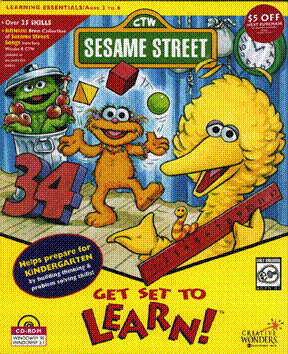 Get Set to Learn! is a Sesame Street CD-ROM game for home computers. The game was developed by Creative Wonders and Children's Television Workshop in 1996.
It was re-released subsequently as part of the 2-disc Kindergarten Deluxe CD-ROM set in 1997, and by Encore Software and Sesame Workshop in 2002.
It was also included in the Get Set for Kindergarten CD-ROM set with Elmo's Preschool and Elmo's Reading Basics.
This game promotes the thinking and problem solving skills necessary for learning.
Releases
Contents
"What Size is Your Prize?": Choose the right size object to win Zoe's game.
"Count it Up! Up! Up!": Count to the right number and watch as the wheel spins.
"Match the Moons": Match The Count's moons, spiders, lightning bolts, gold coins, and numbers.
"Kooky Cookie Game": Complete Cookie Monster's frosted cookie pattern.
"Dunk or Dare": Fill the barrel with trash and dunk Telly.
"Fabulous Prizes": All the prizes won in the games are collected in the chest.
Voices
Notes
Community content is available under
CC-BY-SA
unless otherwise noted.