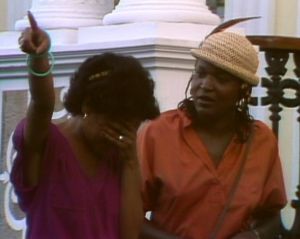 Get Smart is a sitcom which ran from 1965 until 1970, a spy spoof centered on Maxwell Smart, a bumbling but confident agent of CONTROL. The series made heavy use of running gags (such as Max's shoe phone) and catch phrases. These included "Would you believe...?," Max reacting to a name or word and then adding "What's the [word]?," and Max saying "Don't tell me that..." After another character confirms, he petulantly states "I asked you not to tell me that!"
The series was briefly revived in 1995 and a feature film adaptation was released in 2010.
References
In the brainstorming process to choose a title for Sesame Street, one of the suggestions from the public relations firm Carl Byoir and Associates (which included Robert A. Hatch, CTW's press agent at the time) was Get Smart, Jr!., with a "clearances necessary, of course" note. Also on the list was "Get Smarter" (which Edward L. Palmer circled and amended to "Be Smart.")[1]
In the 11th season premiere of Sesame Street, Maria is in Puerto Rico with Olivia and keeps spying her other friends (who arrived secretly as a surprise), but they swap out with someone else. After sighting a familiar bird, Maria tells Olivia "Now take a look and don't tell me he's not there." "He's not there." "I told you not to tell me that."
Connections
Sources
↑

CTW Archives
Community content is available under
CC-BY-SA
unless otherwise noted.