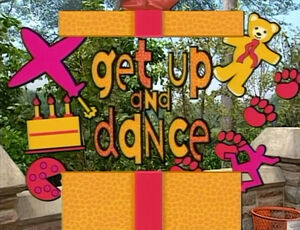 Get Up and Dance is a Sesame Street direct-to-video compilation released on January 28, 1997.
Big Bird decides to hold a birthday party for Radar in the dance studio around the corner. More kids than Sesame Street Muppets are seen in the video as the plot moves along by the kids suggesting a dance, Celina explaining how to do it, and the song or video plays.
The DVD version includes a CD sampler of "Happy Tappin' with Elmo", "Doin' the Pigeon" and "Lambaba" from the album Platinum All-Time Favorites.
Releases
Songs
Notes
Cast
Lexine Bondoc, Desiree Casado, Morgan De Sena, Mara Feinstein, Kenya Harris, Devon Mack, Wesley Rodgerson, Jason Samuel Smith, Rebekka Santana, Amy Tai, Brandon Nai, Carla Davis, Mathew Kelly, Alexandra Young
Credits