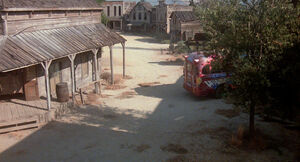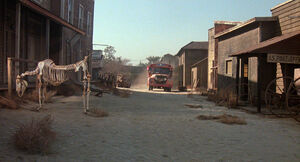 The Ghost Town is an old abandoned Western community in The Muppet Movie. The town collects every Western movie cliche, from the wide dirt streets to the swinging saloon doors. A skeletal horse lies on the outskirts of town, collapsing just as the Electric Mayhem Bus arrives.
The only residents are Dr. Bunsen Honeydew and Beaker, who make their home and laboratory inside the old general store. The musical rotating rain barrel stands at the shop entrance. Inside, the antique clock marks the passage of time and the approach of high noon. In the dusty, empty streets, Kermit the Frog (clad appropriately in boots and cowboy hat) makes his valiant stand against Doc Hopper and his thugs.
Community content is available under
CC-BY-SA
unless otherwise noted.