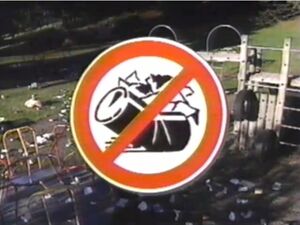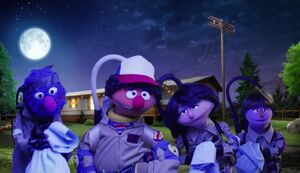 Ghostbusters is a 1984 film about a ghost removal service, which spawned a sequel, an animated series, and various merchandising tie-ins including video games, comic books, and breakfast cereals.
References
In the Muppet Babies episode "I Want My Muppet T.V.," Baby Bunsen invents anti-nightmare pajamas. A clip of Slimer from the 1984 Ghostbusters movie is shown as Baby Beaker uses the pajamas' ghost busting backpack to blast the spectre. The same clip was later used in a version of the opening theme.
The song "Bug Busters" from the Muppet Babies episode "Bug-Busting Babies" spoofs the Ray Parker Jr song from the original movie, and features bug busters and a car similar to the Ghostbusters and their Ecto-1.
In a Sesame Park film insert, Jeff Hyslop sings a parody of the theme song with some kids, about being "Trashbusters" and cleaning a littered playground. (YouTube)
In a 2017 viral video produced by Sesame Street parodying Stranger Things (as "Sharing Things"), Ernie, Grover and two Anything Muppets portraying the main group of boys dress in homemade Ghosbuster costumes (referencing those worn by the cast in the show's second season).
Mentions
In her camera test for Jillian Holtzmann in Ghostbusters (2016), Kate McKinnon compares her poofy, blonde hair to Big Bird (as seen in the home video featurette "Meet the Team").
Connections
External links