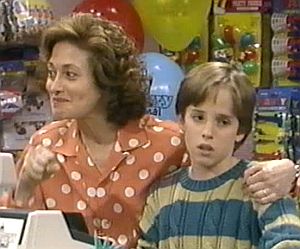 Ghostwriter was a Children's Television Workshop series emphasizing reading skills which aired on PBS from 1992 to 1995. Focusing on a group of young detectives who work with a ghost (who manifests by rearranging words and writing), most stories were serialized in four or five parts.
The series was rebooted for Apple TV+ in 2019.
Muppet Mentions
When Rob visits Victor's home in the first season story "Building Bridges" (1993), Victor's younger siblings are watching TV. While no shot of the scene is shown, they're watching Sesame Street, as the then-current theme and the cold open for Episode 3092 can be heard in the background.
In the second season story "Just in Time" (1993), when Grandma Jenkins asks Alex if he'd like to stay for lunch, he replies "Is the sky blue? Do birds sing? Is Sesame a street?"
Connections