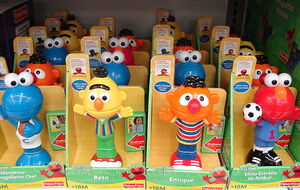 Giggle Gabbers are a line of toys produced by Fisher-Price in 2005 and 2006. When you shake the character, the mouth flaps open and closed, triggering sound clips recorded by the Muppet performers. Each character has a set of clips, including giggles, laughs and short phrases.
The Elmo and Cookie Monster toys were released in 2005.
In 2006, Fisher-Price released another set of four toys -- Elmo Soccer, Cookie Monster Chef, Ernie and Oscar the Grouch. Bert was also released in Spain.
The plastic toys were recalled in 2007 following a lead paint scare in Fisher-Price's Chinese factories. The Elmo and Cookie Monster Giggle Gabbers were re-released with furry coverings, now renamed Chatters.