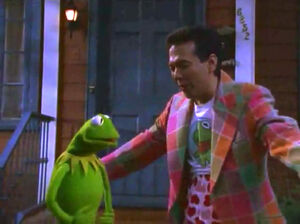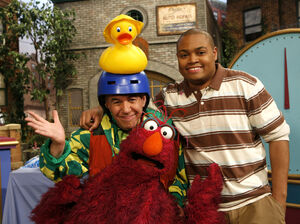 Gilbert Gottfried (b. 1955) is a stand-up comedian with a deliberately loud and obnoxious stage persona.
A cast member of Saturday Night Live for the 1980-1981 season, Gottfried appeared in only twelve episodes before being released for a re-tooling of the show. The Cosby Show would be his next break, where Gottfried honed his trademark persona.
Aside from stand-up, Gottfried has also appeared in the Problem Child movies (with John Ritter), was a regular on The Tonight Show with Jay Leno, and Hollywood Squares. His distinct voice has also been featured as Iago in Disney's Aladdin, Mr. Mxyzptlk on Superman: The Animated Series, Digit on Cyberchase, and was the voice of the duck in Aflac commercials. For the latter, in some spots, Gottfried's voice was attached to a Jim Henson's Creature Shop animatronic incarnation of the duck.
Muppet-Related Appearances
External links