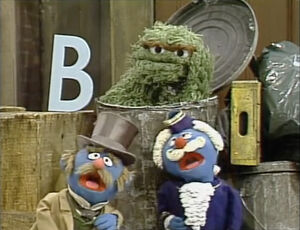 Gilbert and Sullivan refers to the Victorian era partnership of librettist W. S. Gilbert (1836–1911) and composer Arthur Sullivan (1842–1900). The two men collaborated on fourteen comic operas between 1871 and 1896, of which H.M.S. Pinafore, The Pirates of Penzance, and The Mikado are among the best known.
Gilbert, who wrote the words, created fanciful "topsy-turvy" worlds for these operas, where each absurdity is taken to its logical conclusion—fairies rub elbows with British lords, flirting is a capital offence, gondoliers ascend to the monarchy, and pirates turn out to be noblemen who have gone wrong. Sullivan, six years Gilbert's junior, composed the music, contributing memorable melodies that could convey both humour and pathos.
Song covers
References
The composers were most prominently referenced on Sesame Street with Gilbert and Sullivan, a pair of Anything Muppets who lead large, operatic musical numbers.
In the version of the "Visual Thinking" sketch performed on various variety shows, Kermit imagines "flowers that bloom in the spring, tra-la, tra-la," referencing the song of the same name from The Mikado.
In a mock break-out quote on the back of the 1977 Sesame Street album Big Bird Leads the Band, W. S. Gilbird and A. S. Gullivan (lyricist and composer of HMS Pinfeather) provide a rhyming tribute: "Bird, thou never wert/we do assert/so musical/as on this al-/bum."
In Episode 4129, during a "What Comes Next" game about seasons, Luis finds himself surrounded and bombarded by elements of each season. When spring comes, flowers sprout around him, as Big Bird exclaims, "Flowers that bloom in the spring, tra-la!"