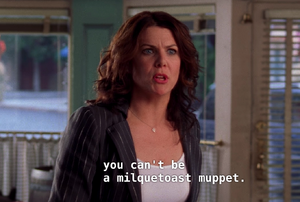 Gilmore Girls is an hour-long drama about Lorelai and Rory Gilmore, a single mother and her teenage daughter, and the small town of Stars Hollow. The show premiered on the WB in 2000, and later moved to the CW; the last episode aired in 2007. A four-part revival, entitled Gilmore Girls: A Year in the Life, debuted on Netflix in 2016.
The show is known for its extensive dialogue and pop culture references, including many to the Muppets.
Muppet Mentions
In Episode 1.17, "The Breakup, Part 2," Lorelai tells Rory, "Yeah, you do know, honey, that garbage doesn't actually talk at all unless it's on Sesame Street."
In Episode 4.04, "Chicken or Beef," Lorelai is ranting about business being dirty and says, "And when you go into those rooms, you can't be a milquetoast Muppet. You have to have pointy teeth and jaws that snap. The meek shall not inherit the earth!"
In Episode 4.11, "In the Clamor and the Clangor," Rory's friend Lane and her very strict mother Mrs. Kim are arguing about her rebelliousness and her collection of "forbidden" items. They share this dialogue:
Lane: "I started it when I was six, the day you told me the Cookie Monster was one of the Seven Deadly Sins."
Mrs. Kim: "Gluttony."
In Episode 5.11 "Women of Questionable Morals," when talking about Christopher, Lorelai states, "His support group is two and heavily into Sesame Street."
In Episode 5.17, "Pulp Friction," Lorelai's mother Emily is attempting to interfere in her relationship with Luke. Frustrated that Luke is apparently ignoring her she exclaims, "I told you to get back together with Lorelai! I told you exactly what to do and exactly what to say. What do you need, a cheat sheet? ... Some flash cards, some Sesame Street characters to sing a song about it?"
In Episode 7.07, "French Twist," Rory comments on the anonymity of her new friend Lucy's boyfriend, saying, "I'm beginning to wonder if he really exists, or if he's just Lucy's Snuffleupagus."
Connections
Sources
Community content is available under
CC-BY-SA
unless otherwise noted.