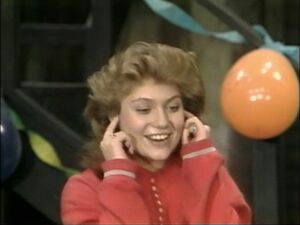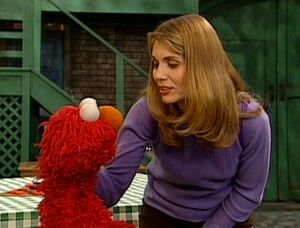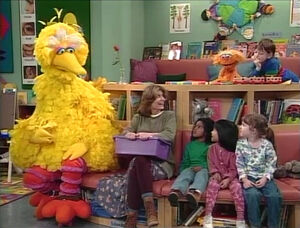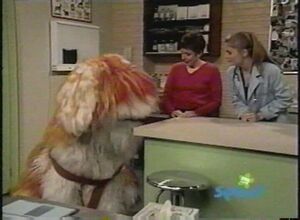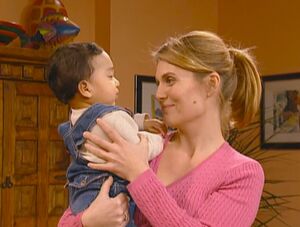 Gina Jefferson is a human character on Sesame Street, who first appeared in Episode 2253.
The character was created by writer Nancy Sans, originally as a day player role. Her first episode, in season 18, involved her getting lost on the way to 123 Sesame Street, where Gordon and two directionally-abled science class students were watching the night sky.[1] She made a few more recurring appearances that season, including Episode 2263, 2293, 2309, 2319 and 2337.
When she was introduced as a regular, she worked at Hooper's Store, getting the job in Episode 2358. She has developed friendships with Mike and Savion, and had a romantic relationship with Jesse. She graduated from high school (Class of 1990) at the end of season 21 in Episode 2745 and continued to work at Hooper's Store while figuring out what life path to follow.
In Episode 3397 (Season 27), she revealed that she wished to work in child care and had taken night classes, earning her teaching certificate and working part-time at a day care center. From season 27 to season 29, she ran the day care center located Around the Corner.
In season 30, she began studying to become a veterinarian. In season 32, she opened her own vet clinic in the building that used to serve as a garage in the courtyard.[2] In a game produced for Kinect Sesame Street TV, it is mentioned that Gina instead runs a dog-grooming business called Just Fetching.
In season 37, she travelled to Guatemala with Maria to adopt Marco.
Gina last appeared in new material in season 45, though occasionally appears in new episodes through older footage, and returned in Sesame Street's 50th Anniversary Celebration.
Gina's mother appeared off-screen in Episode 2595 (voiced by Camille Bonora), and later onscreen at her daughter's graduation ceremony in Episode 2745. According to Episode 4260, Gina's mother is Italian.[3]
She has appeared in songs such as "The Word is No" and "Rhyme Out."
Notes
Appearances
Films and Specials
Home Videos
Book appearances
See also
Sources
↑ "Growing Up Gina", sesame family newsletter, December 17, 2010.
↑ Episode 4260, citing her love for the smell of garlic