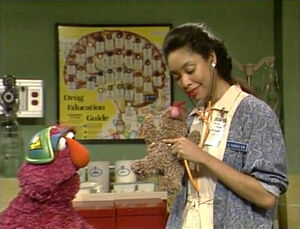 Gina Torres (b. 1969) is an actor most well known for playing Zoe Washburne in Joss Whedon's Firefly.
In 1993, she appeared on Sesame Street in Episode 3096 and 3097 as a nurse. She admits Telly Monster to Dr. Sing's office and checks his temperature and heartbeat. Upon request, she also checks Freddy's pulse, and reports that it's normal... for a doll.
Her other credits include the second and third Matrix films (with Laurence Fishburne), the Firefly spinoff Serenity (with Nathan Fillion), Alias, Angel, Boston Legal, Pushing Daisies, Westworld, and the voice of Wonder Woman in DC Universe Online.
Community content is available under
CC-BY-SA
unless otherwise noted.