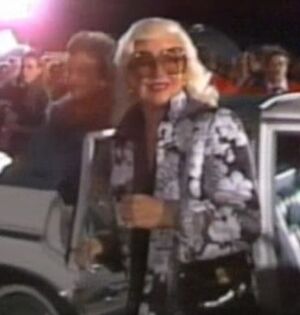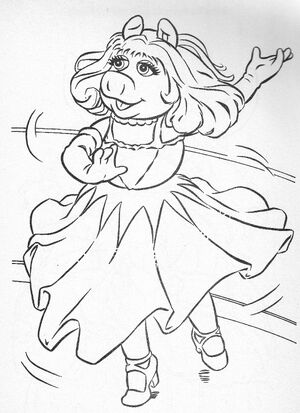 Ginger Rogers (1911-1995) was a dancer, singer, and actress. Best known as the dance partner of Fred Astaire, Rogers made 73 films (10 with Astaire, including Top Hat), and won the Academy Award in 1940 for her dramatic turn in Kitty Foyle. She was one of the many Hollywood stars who attended the gala party on April 6, 1979 to celebrate the release of The Muppet Movie, which was taped as The Muppets Go Hollywood. She can be seen arriving at the beginning.
She began her career in Vaudeville, leading her to her Broadway debut on Christmas day in 1929. The following year saw her first pairing with Astaire in the Broadway show Girl Crazy, although he served as strictly as a choreography assistant behind the scenes. The pair made their screen debut in 1933 with Flying Down to Rio.
Phyllis Fraser, Christopher and Jonathan Cerf's mother, was a first cousin of Ginger Rogers.
References
During the dance marathon in The Muppet Show episode 515, First Mate Piggy is eaten by a hungry alien (Mean Mama). Gonzo warns Piggy that if she stops dancing, she'll be disqualified from the contest. As Piggy dances inside the alien's stomach, Gonzo sighs, "Fred and Ginger were never better."
In Episode 3608 of Sesame Street, Sherry Netherland needs a dance partner. On the phone, she chats with her partner Fred, who cancels on her to dance with Ginger instead.
In Episode 4003 of Sesame Street, Super Grover does a National Bird Day dance with Big Bird. When Big Bird leaves, Grover cries out, "Do not leave me alone. I feel like Ginger without Fred!"
External links