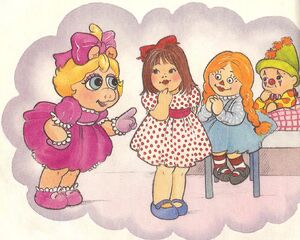 Giselle is one of Baby Piggy's favorite dolls, and featured in the 1987 Muppet Babies storybook Baby Piggy's Night at the Ball. In the book, Piggy imagines getting ready for a costume ball with her favorite dolls Giselle and Esmerelda. Giselle decides to go as a ballerina, dancing and twirling all night long. Both she and Esmerelda, however, object to Piggy inviting Oliver to the ball.
Once there the dolls dance with tin soldiers, and eat cake and ice cream until Oliver spills it all over their costumes. After he falls into the orchestra, Giselle stamps her foot and exclaims that is is spoiling the whole ball, resulting in Piggy sending the clown doll home.
Community content is available under
CC-BY-SA
unless otherwise noted.