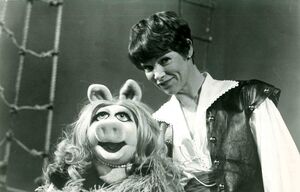 Glenda Jackson (b. 1936) is an Oscar-winning British actress and former politician. She was the guest star on The Muppet Show episode 507. Unlike some guest stars, Jackson insisted to the producers that she was ready to perform any material they had in mind, giving them a free hand for an especially bizarre episode.
She won two Academy Awards for Best Actress, in 1969 for A Woman in Love and in 1974 for A Touch of Class. She has been nominated for a Tony Award four times, winning in 2018 for her performance in Edward Albee's Three Tall Women, and won Emmy Awards in two categories in 1972 for starring in Elizabeth R.
She left entertainment for politics in 1992 and was elected as a British Labour Party MP. She served five terms as MP for Hampstead & Highgate but stepped down to return to acting in 2015.
External links